Hi y'all!
It's about time for an Advocare update since we finished the 24-day challenge back at the end of February, right?!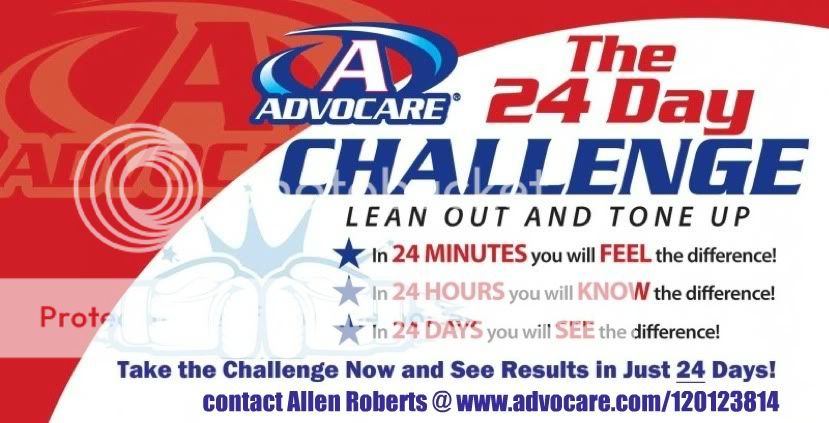 My story:
We started the challenge on
February 5th
and I ended up leaving Austin on February 13th to go back home to Dallas while my Gramma was in the hospital. I stayed on track with my diet and products until Gramma came home from the hospital on the 23rd. We were all spending our time at my grandparents house and many people brought over casseroles, lasagna, etc. so I ended up caving and indulging in the comfort food. I continued taking the products as instructed but I knew that I had strayed from the "diet" that I needed to be on so I wasn't expecting to see the best results possible. I didn't have a scale or measuring tape handy while in Dallas so I never weighed or measured while there. Our 24 days ended on February 29th which is the day we had my Gramma's funeral and I didn't end up going back home until March 3rd. The entire time I was in Dallas, all my family kept asking if I had lost weight and asked about what I was doing. I laughed it off because I was skeptical about what results they were already seeing and decided to put off weighing myself for a few days when I got home. However, I was feeling different. I had more energy and felt like my body had changed. I finally weighed myself one day during the first full week of March and found that I had lost right at 6 pounds. The "typical" weight-loss for females during the 24-day challenge is an average of 8-12 pounds so I felt like I failed. I decided after I weighed that I wasn't interested in measuring myself yet since I hadn't reached my weight-loss goal. I decided to finally have Allen measure me on Tuesday this week and then I had him measure me two more times because I didn't believe the results. As of March 20, 2012 I've lost a total of 9lbs and 5 inches off my waist!! I still can't even believe my results so far in just 45 days. I'm still taking Advocare products for maintenance and I plan to lose more weight and inches. My goal is to at least lose 15lbs and I would like to lose at least 4 inches off my hips.
We took Allen's after photos on March 11th but I at the time I wasn't happy with my results so I refused to be photographed until I reach my goals.
So for now, my story is 'to be continued'
I do like this photo from after my Gramma's funeral on February 29th where you can really see my waist accentuated in the dress I wore
Allen's story:
A little back story on Allen is that he is a former personal trainer but he has been a baseball coach for 10 years and a strength & conditioning coach for almost as long. He has used many products over the years but about 6 years ago he tried Advocare Catalyst for the first time and he's been an Advocare fan ever since.
So when we started the challenge he went full force on it, stuck to the suggested meal plan, took the products as instructed and worked out. Allen came to Dallas a few days at a time and stayed on track throughout it all. He was constantly coming back to Austin and weighing himself so he knew what his results were throughout the whole 24 days. Allen did really well and lost 15lbs and 4 1/2 inches off his waist during the challenge and as of March 20, 2012 he's lost over 5 inches on his waist and maintained his weight loss.
They always say guys lose weight much easier and I completely agree. He's worked hard for his weight-loss though and I'm so proud of him!
I now present you with the before and afters of my sweet husband . . boy is he brave for letting me post these of him!
So what do you think?
I have to admit that I was super skeptical in the beginning but I went at it full force and took it seriously (the majority of the time) and I'm excited to see what additional results we can achieve.
We are both passionate about helping others reach their goals as well so if you're wanting to lose weight, this may just be the right products for you.
benefits of the 24-day challenge:
lose weight, inches and improve lean body mass
provides sustained-release energy
controls sugar craving and appetite
provides more than 50 vitamins, minerals, herbal extracts, antioxidants, and other nutrients for comprehensive health and wellness
supports the digestive and intestinal systems
helps support visual acuity and performance of sustained visual tasks
encourages great skin tone and elasticity
excellent source of calcium and contains a full gram of omega-3 fatty acids in each daily serving

The first 10 days of the challenge is an herbal cleanse and I swear that's the reason for the inches I lost. The 14 remaining days is the max phase that includes vitamin-rich supplements and an intense metabolism boost. Advocare isn't a diet at all. You don't have to count calories or points. It's all about making healthy food choices and adding supplements that aide in your health and fitness goals. Advocare has numerous un-paid endorsers including Drew Brees, Colt McCoy, Carli Lloyd and bodybuilders worldwide who've put their names with Advocare because they truly love the company and the products.
Visit our
Advocare website
and leave a comment or question here if you're interested in giving the 24-day challenge a try